Waiting for ages to be photographed I finally took pity of the following figures today. I'd ordered them quite a while ago after a strange coincidence: I had watched the phenomenal "Firefly" series for the second or third time. (If you haven't heard of it yet - heaven forbid! - head over to your favourite DVD dealer immediately and GET IT RIGHT NOW!) On the other hand my research on (ultra-)modern warfare rules - to be used with my Near Future Russian partisans - had led me to Ambush Alley Games and a preview version of their "Tomorrow's War" rulebook. A Sweetwater fellow advised me of Ground Zero Games who produce also a set of not-Serenity crewmembers in 15mm - and I was sold.
The core crew (left to right): Jayne, Mal, Zoë, Wash & Kaylee
[Click to enlarge]


As you know, I'm trying my hand on different scales this year. And these miniatures were some kind of a first or renewed venture into 15mm's. First off, I went a bit crazy about painting details onto them. For army projects this would be pointless, I know, but since these are intended for skirmish games it seems managable. Still, being a 'shot in the dark' I'm not overly confident of the paintjob and the basing as well. Thus comments on that are more than welcome!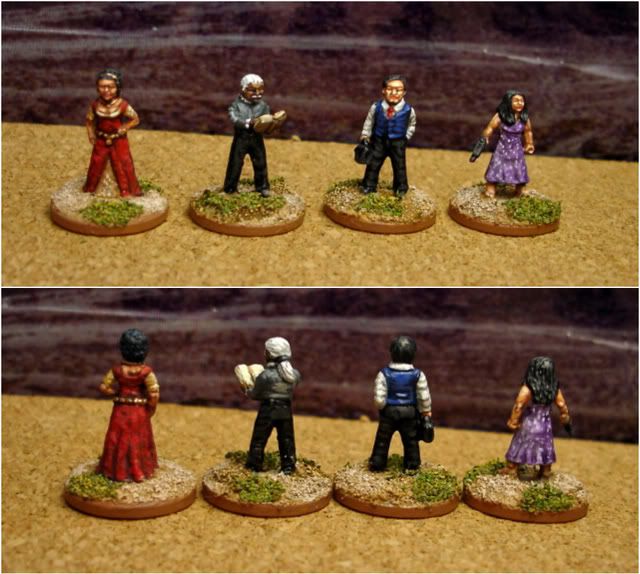 The passengers (left to right): Inara, Sheperd Book, Simon & River
[Click to enlarge]
Originally, I wanted to wait until I'd finished additional bits and pieces to stage them in a decent setting - opponents, huts and, of course, cows for a start. Having already bought some of this stuff I find my interest concentrated on other projects recently (AWI and 10mm that is). At least I've just managed to add a small vehicle, loosely resembling the 'Mule' quad from the original series.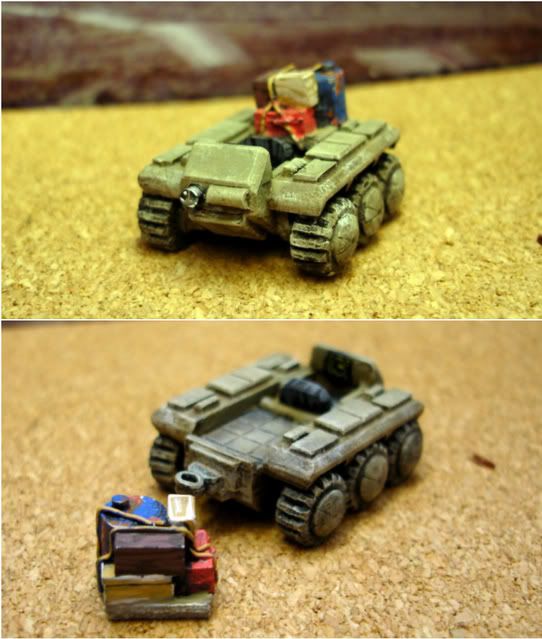 The Mule
[Click to enlarge]
Maybe there's more next up, if interest shifts back.
PS: I've experimented with lighting and background. It didn't work out quite as planned, so I have to apologise (again!) for the mixed bag of photo quality.

Painted 2010. Models by Ground Zero Games.