And so it begins. Right into it, let's start with a core unit of every self-respecting Medieval army: the knights.
These are somewhat iconic for the Middle Ages and for the 13th century in particular. In this phase knights become the fully armoured shock cavalry we all love. But they also become a social model, their appearance a subject of arts, their way of life encoded in literature. Promoting themselves that way knights start to climb upwards from unfree servants to a class of (at least) minor noblemen. And we may consider most people's enthusiasm for the knightly image down to the present day a sign of its impact as a role model.
In Konradin's time there was a lot of transition, and, of course, things didn't change simultaneously or in the very same way all over Europe. Konradin's army may have mirrored these differences and 'asynchronies' almost perfectly because it was drawn together from a mix-up of sources. That is represented by this first – and rather fanciful – battle group. The knights are sporting a mixture of armament styles, e.g. some already in the all-enclosing great helm, while others still wearing the precursory open or face mask helmet.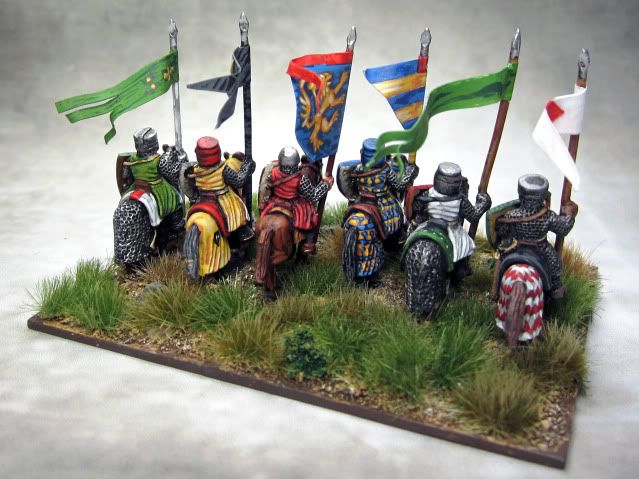 Rather conjectural than based on fact is the heraldry as well. Some motifs are taken from the Codex Manesse. From the same source comes the
depiction of Walther von Klingen
, a famous ministrel of his time, but an unlikely supporter of Konradin's cause. I painted him up more as kind of a reminiscence to
my first Impetus base
, which featured one of Walther's later descendants.
Another reason being that I had started painting some test figures, before I finally decided on a certain theme. Among the possible theatres of war were the Bohemian campaigns of Rudolf I (which I might still use the army for, once it's finished), and the leader of the present battle group is another remainder of this consideration. Actually, I wanted to portray Meinhard II, count of Tyrol and Gorizia, who not only supported king Rudolf. Coincidentally, if unsurprisingly he also had taken a major part in his stepson's endeavour (Meinhard married Konradin's untimely widowed mother). However, the count defected from Konradin's cause, due to issues unknown in detail, just as they had crossed the Alps in triumph. Quite a few German nobles along with their retinues joined the count's early withdrawal. Anyway, Meinhard wasn't present when Konradin encountered military opposition - and the same goes for his brother Albert I, whose coat of arms I erroneously used here. Well, since the whole campaign isn't that well documented, a bit of artistic license seems okay. ;-)
Finally, famous first words on the miniatures. I have painted 15mm figures before, but these Legio Heroica ones are rather nice. Cleanly cast, excellent detail. The only downside here is the lack of crests. Even if it's debatable that knights used such devices in battle (I for one firmly believe they did!), it would've been nice to have some just for variation. Lances are a bit prone to bending, but since they were provided I used them. The banners are computer-generated designs, printed and painted over by hand. For the basing I wanted something a bit arid (like South Italy in summer, that is), and the MiniNatur tufts work well enough for my taste to give the impression of unmown grassy areas. Paintingwise I probably got a bit crazy here to see what's possible in this scale, but honestly I can't promise to put the same effort into the next figures!
PS: Please tell me if you want to know more about something in particular, be it in regard of painting, miniatures or history. The format of this project is rather free-flowing yet, and I would like to include your suggestions as far as possible.
PPS: I also added a
dedicated project page
, where I will compile all according entries. It's under construction yet, but keep an eye on it.
Miniatures by Legio Heroica.