Recently I have learned about the passing of Peter Connolly on the 3rd of May. Probably most people who are into history, and historical games in particular, have heard of Mr Connolly or actually seen his illustrations. Most prominently, his inspired, imaginative but always well-researched artworks appeared in quite a few books for young people, the likes of "The World of Odysseus" or the "Tiberius Claudius Maximus" series. These were the books that sparked my interest in Ancient history in the first place, and I keep referring to these treasures when looking for both inspiration and education.
The pictures he created of the past, colourful and almost like drawn from life, are a lasting memorial, since they are imprinted on many people's minds. If smallish, a testimony to this great achievement is this very blog. I mentioned Peter Connolly's work as a creative force on
one of my centurions
from last year's series. But implicitly it had influence on many more occasions - and that will continue.
Not just to bemoan his death with too many words, here's a figure I painted in honour of and an explicit thank-you to Peter Connolly.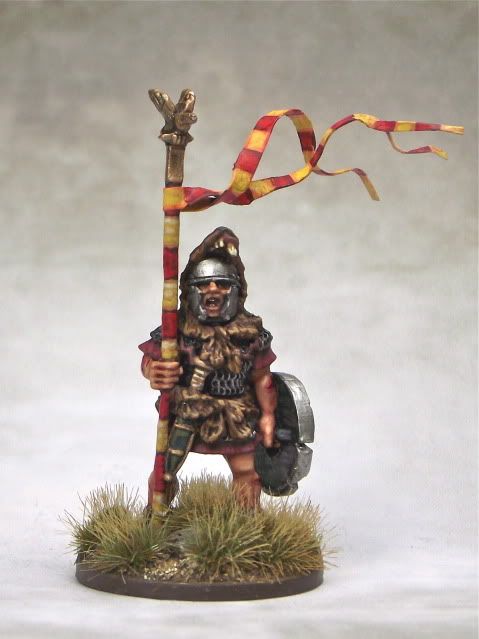 A lot of Connolly's illustrations focussed on the Roman military, so it seemed appropriate to choose something from this area: An aquilifer from the time of the late Republic to the early Principate, the dawn of Empire.
There are only a few symbols of the Roman military as iconic as the eagle standard. Certainly, no suprise given its importance to the troops as an object of pride and veneration. The eagle-bearers therefore, although we don't know much about their rank and origins, must have been men of great authority, acceptance and, not the least, exceptional courage - for if the eagle was lost, the legion's honour was lost as well.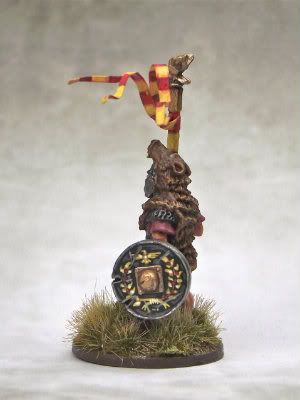 I imagined this aquilifer to call for attention, perhaps at funeral service for a fallen general, perhaps in the face of another fight. Scarred and battle-worn, he's obviously not just a veteran of countless engagements but has fought in combat quite recently. Still standing, still holding up the legion's honour.
Hopefully a worthy tribute.
PS: On a sidenote, blogging has obviously gone into a hiatus. There are a few things I wanted to post, but I just couldn't find the time to write something up. Unfortunately, time will remain an issue, but rest assured I'm still trying.
PPS: For other miniatures that I've painted recently, refer to
Lt. Hazel's blog
. These were done "for commission", when I payed a visit to him lately.
Painted May 2012. Miniature by Wargames Foundry.