Instead of just another update on my ongoing Konradin project, I wanted to give you (and myself) a little break. The more since currently painting time has been dedicated almost exclusively to another venture. My love for all things Roman has been documented here before – just remember last year's centurion series. Back then I also talked about a special interest in the 3rd century AD and the related range from
A&A Miniatures
. Triggered by Lt. Hazel's start of a "
barbarian invasion
", eventually I took the plunge, ordered and started painting. Here's what's come up so far: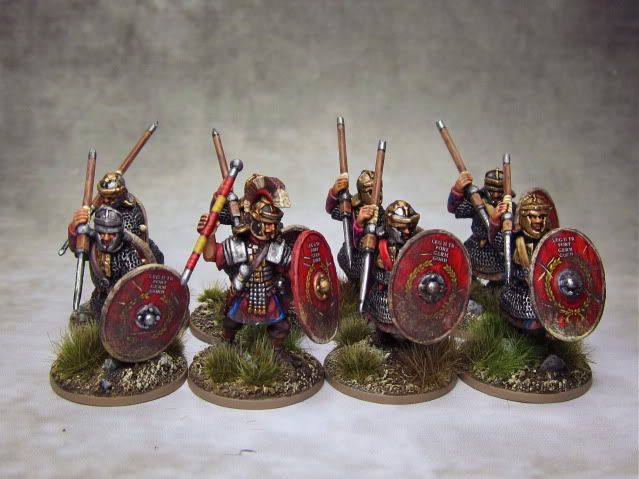 Since we're planning to use the ubiquitous SAGA rules, all troops will be assembled accordingly, i.e. in units of 4 to 12 men each. Average warrior-type units are made up of 8 soldiers – coincidentally the supposed number of men in a
contubernium
. Eight men (more or less) were to share a room (
taberna
) or tent, and that became the basic level of organisation in the Roman army.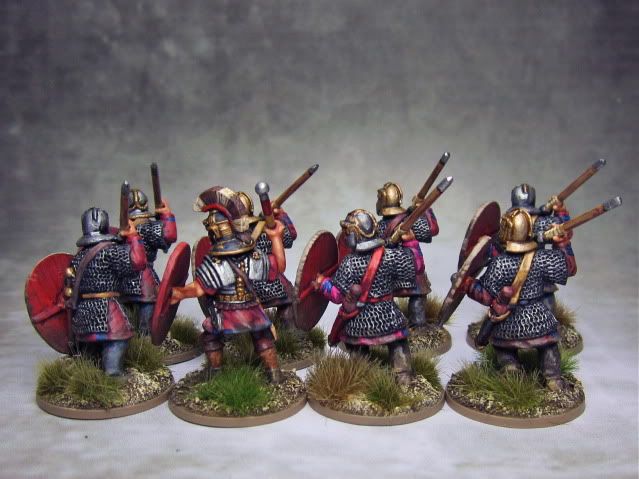 For this first unit, however, I lacked one figure, the one used for comparison with its
Aventine
equivalent. Unfortunately, this time I wanted to speed up using decals instead of painting freehands all along. Hence I had to chose another model from the pile as a replacement, and I digged up an
optio
from
Aventine's
Marcomannic Wars range. As I said in my
review
, their equipment looks a bit dated for the 3rd century. Though, if well-tended, armour could survive decades (as documented by a number of findings). A second objection might be that a junior officer wouldn't actually be part of a regular
contubernium
. But, given the army records found at various places (most notably
one from Vindolanda
), units were heavily under-strength, and junior officers would have bolstered the ranks by default.
The shields bear the signs of the
Leg(io) II Tr(aiana) fort(is) Germ(anica) Gord(iana)
, the design obviously inspired by an illustration by the late Angus McBride. The legion took part in several campaigns all over the Empire, and was regularly awared with honorary titles by the current emperor (presumably Gordian III in the present case). A contemporary
inscription
found at Alexandria gives the name of a certain Equinus Pompeianus, who likely served as an
optio
in the 2nd Traiana while garrisoned in Egypt. And since I love to 'put names to faces', a namesake is now driving his comrades into battle with an obviously ardent desire to distinguish himself…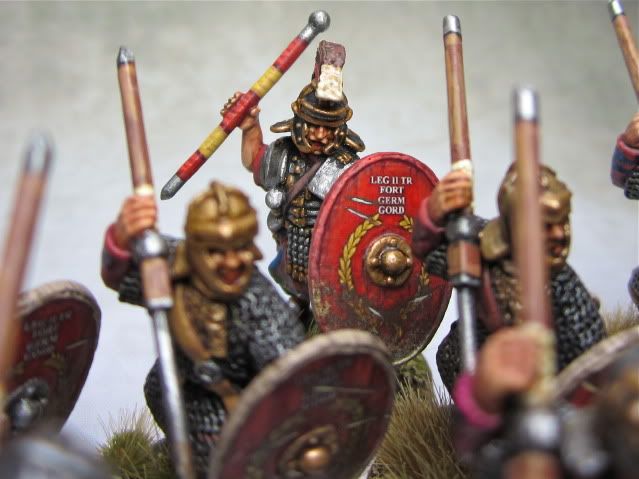 The weather isn't up to taking photos today, sorry for the lighting. Hopefully it gets better when the next bunch marches from the paint desk. By now I've finished two half-units. This approach gives some variation while painting units, since the SAGA warband will be a mix of different formations (beware, historical inaccuracy ahead!). Choice of colours was inspired by the works of Graham Sumner, mainly from his latest book on "Roman Military Dress". Highly recommended!
Painted June 2012. Miniatures by A&A Miniatures & Aventine Miniatures. Decals by Little Big Men Studios.