Been a while since my last posting, but time didn't allow for blogging lately. However, as the title suggest, I'm not dead yet, and here's proof of that. Mainly I've been busy hobbywise with rounding off current projects, in particular the "Fridericus Redivivus" one. In doing so I also try to gather steam for an opposing force (as advertised in the last post). Thus I decided on preparing some markers and started with casualty counters.
These two are rather prototypes, so they might look a bit rushed. Personally, I prefer to use actual models for markers for they blend into the gaming area more easily. Therefore I wanted them to be as unobtrusive as possible while remaining clearly distinguishable from accompanied units. Furthermore the markers shouldn't be specific to a certain army or faction but retain some 'period feel'. Fortunately, I came across these figures from Khurasan Miniatures, and the issue was solved!
The Reaper is a common personification of death during the Middle Ages, originating in biblical sayings which compare death to a harvester (like Jeremiah 9.20). It's meant as a reminder of the vanity of status and life itself. Of similar intent is the depiction of skeletons or liches dancing with living people, some carrying hourglasses as well. That image became widespread throughout Europe in the 15th century, but it's possibly much older. So fitting quite nicely as a theme for casualty markers in a Medieval setting, don't you think?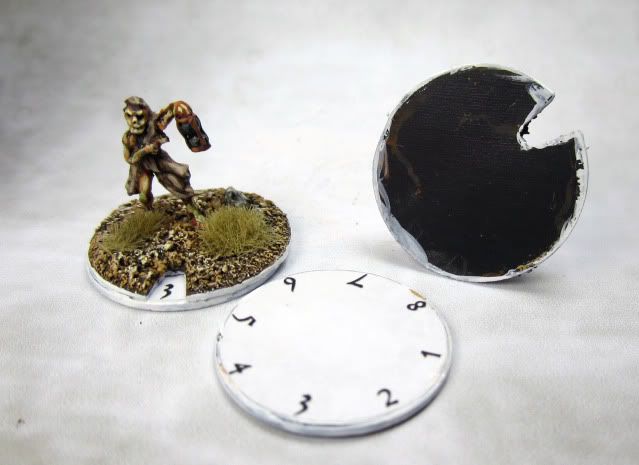 The basing concept is rather simple as well. I wanted to keep track of rising numbers without the need for microdice (fall off easily) or multi-edge bases (rotating by accident). There are of course ready-made counters which already meet these requirements, but they are too clunky for my taste. Thus I created some numbered labels and pasted them onto washers. The figure was glued to a magnetic base with a gap cut into that in order to reveal the numbers on the washer. The edges were then painted white to make the bases stand out on the tabletop. As I said, there's room for improvement, but I want to explore this further as soon as I can.
First I have to meet some hobby-related obligations. For those interested, here's my latest work, a commission/friendly turn of 1/72 scale models (WIP Aventine Roman just for comparison). As far as I know these will feature in a diorama which depicts the reception of religious refugees by Frederick III, Elector Palatine of the Rhine (the Henry VIII lookalike), in 1562. You can keep track of its progress over at
Michel's Miniaturen
(only in German). The diorama itself will probably be displayed in the museum at Frankenthal (Rheinland-Pfalz), so you might get a chance to see them in person.
Now back to the painting desk. There's more work to be done. In the meantime, please bear with me!