Every self-respecting army needs baggage. And for Impetus enthusiasts it's the best excuse to go down the diorama route even further on even bigger bases! So I had to include this piece for a reason.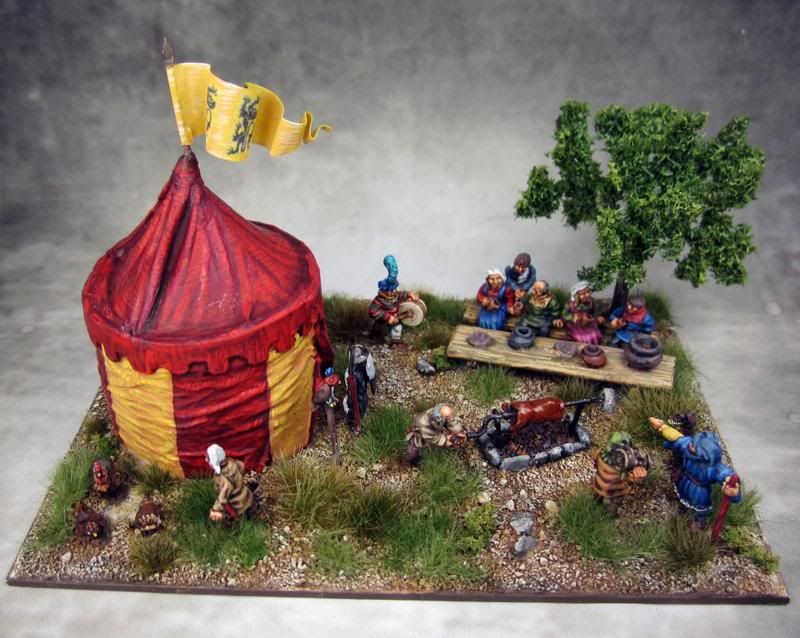 Actually, a camp scene had been planned from the very beginning. On the one hand, once
this piece of art
created by
Tactica
big shot Frank Bauer had opened my eyes for the dioramic possibilities of 15mm, I wanted to create something similar. On the other hand, what got me interested in Konradin's adventure in the first place was that certain "Medieval romance" theme written all over it. To many people Konradin must have appeared as a youthful knight errant on a quest to bring back those blissful days of his grandfather's reign (admittedly, not blissful for anyone concerned). In my mind a revelling entourage, feasting even in the face of battle, captures this feeling best.
Inspiration was drawn as well from reading the Ice and Fire novels by George Martin. One of the few truly imaginative passages (I share a love-hate-relationship with these books, don't ask) focusses on the pretender Renly Baratheon, who believes his struggle for the crown to be a blithe, courtly adventure. Consequentially his interesting storyline has been mishandled by both the author (No better way than witchcraft? Seriously?) and the TV series (Look, we're so nasty overplaying this weird sexual thing!), but it's still a nice characterisation of what might have kept people flocking to Konradin's cause, too.
So, the idea was clear. But it took me ages to hunt down suitable, i.e. mainly civilian figures. Eventually I came across
Donnington Miniatures
, and they happened to have all the models I could ask for, provided in customer-friendly bits-sized packs. Okay, some sculpts aren't up to higher standards regarding animation and detail, but overall they offer both good variety and quality. Initially I had purchased some military models as well in order to stage a small jousting scene. However, since I already had way too many figures squeezed onto the base, I reined back myself and tried to focus on the banquet scene. Admittedly, it's a rather condensed version, but then again, six knights on a base are also just a representation of much larger contingents! ;-)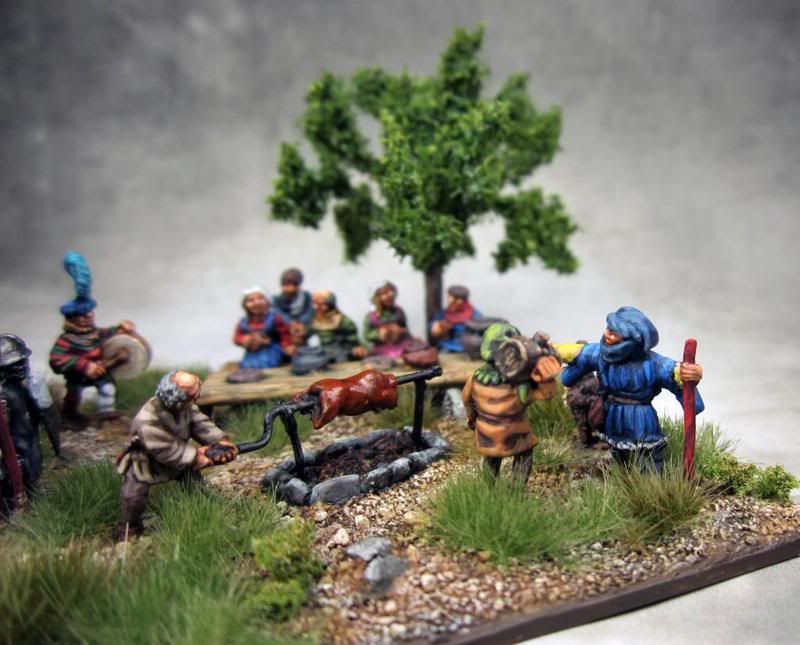 The figures are mainly meant for periods beyond Konradin's life time, thus a bit anachronistic in fashion: For example, the emcee began his career as a master gunner while the solo entertainer is a Swiss drummer, both from the later 15th century. The only suitably clad model is the guardsman from
Donnington
's 14th century range. He's standing in front of a tent actually intended for 1/72 scale. I had bought this from
Rusus
for a 28mm project, but it doesn't look out of place here, does it? The banner flying from its top shows Konradin's arms as the Duke of Swabia. I'm not that happy with it yet, but it can be easily exchanged, also to make the camp usable for other armies.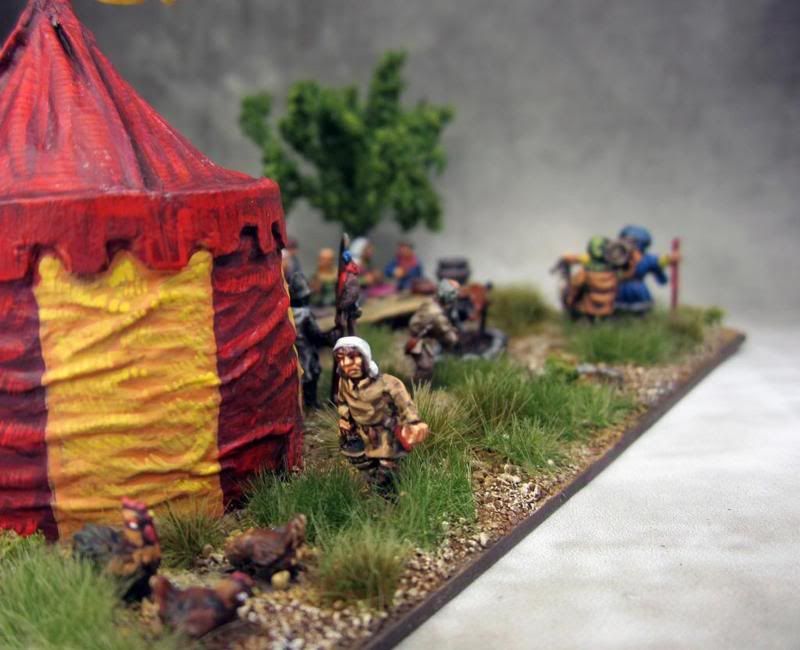 Hopefully you have as much fun with this scene as I had creating it. Of course, you may ask: "But where's the host?" Still Konradin himself hasn't made an appearance here, and despite the addition of a camp the whole army hasn't been shown on the blog neither. You might, however, get a glimpse on what we're up to with both by checking out
this post
on the
Impetus News
blog. And, please, let me know what you think!
Miniatures by Donnington Miniatures, tent by Rusus, tree by Noch (if I remember correctly).